We can beautifully shape your trees with tree pruning.
Taking care of the trees on your property can be a little intimidating. Trees generally do not require a lot of maintenance, but they do require some work to help them stay healthy and look beautiful. Trees can tend to grow wild and will need a little pruning and trimming to give them the perfect shape. It can be tricky to decide what needs to be done to prune trees. How much do you cut off? Can you harm the tree by pruning too much? Plus, then you also have the issue of actually climbing into the tree to do the work. It can be a big job, which is why you should use us at B&B Tree Management for tree pruning.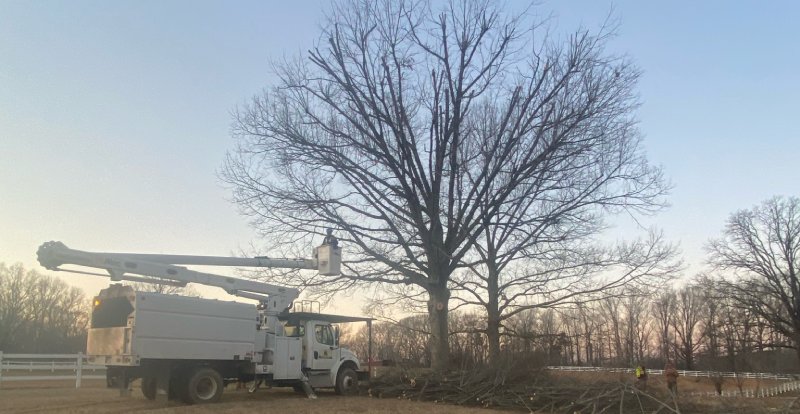 When it comes to tree pruning, we really know our stuff. We know exactly what needs to be done to prune your tree to prevent damage to the tree. We know exactly how much to prune and how to get the exact shape you want for the tree. We have experience pruning trees of all different varieties, including fruit trees. We also have experience safely pruning trees. We have all the equipment, tools, and safety equipment to properly get the job done. We can prune trees of all shapes and sizes and all different varieties, including oak, maple, elm, pine, and many more. We are very experienced and will take great care of your trees.
Contact us today if you are in the Sevierville, Tennessee area and are interested in learning more about the tree pruning services we offer. We will be happy to answer all of your questions and go over costs with you. We do excellent work and can have the trees on your property pruned and shaped in no time. You can count on us to arrive on time and get right to work on your trees. We are reliable, affordable, and experienced.
---
At B&B Tree Management, we provide tree pruning services for properties in Sevierville, Alcoa, Pigeon Forge, Kodak, Gatlinburg, Knoxville, and Seymour, Tennessee.