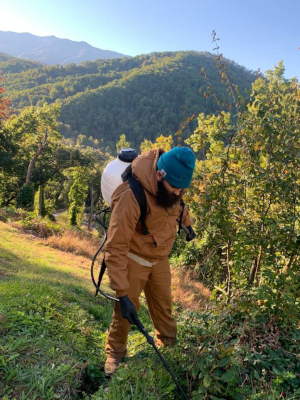 Trees are the ultimate "plant it and forget it" project, right? Wrong. Trees can be low-maintenance, but that doesn't mean they're no-maintenance. At B&B Tree Management, our experienced arborists can help you ensure that the trees on your property are happy and healthy.
Here are just a few of the plant health services we offer:
Disease diagnosis and treatment. One infected tree can quickly spread disease to the rest of your property. Identifying and treating issues early is key to tree health, and scheduling regular arborist visits helps you deal with them before it's too late.
Structural damage prevention. Did you know that a tree's root system can extend in a wide radius around the tree, growing into foundations and tangling in underground utility lines? Arborists can help prevent these issues by assessing a tree to ensure it's not too close to buildings or utility lines. Our goal is to save your trees whenever possible, so you can continue to enjoy them; we recommend scheduling a consultation before planting or as soon as you notice a potential problem.
Determining the right tree for your property. There are many factors that determine if a tree will thrive in a location. Is the soil pH optimal? Will it get enough sun? Will you have to water it twice a day? Arborists can help you answer all these questions and more to help make finding the right tree for your property easy.
Tree removal. As much as we hate to see it happen, sometimes there's no saving a tree that's been damaged or is causing problems on the property. When it's time to completely remove a tree from your property, you can count on our arborists to get the job done right.
Tree care can be tricky, but we're here to make things easy — give us a call to schedule an appointment with an arborist!